On facebook a question came up:
Can anybody fill me in with the Christmas trees that have popped up on Druids Heath?
I'd helped plant the trees, as part of the Social Able project in Druids Heath – led by Jayne Murray from Place Prospectors Funded by The National Lottery:
'..one resident had said, 'How nice would it be to have a Christmas tree on the green space in front of her flats.' And it was like, 'yes, that's a lovely idea', but a Christmas tree for the community, would that be the right place for it?…we had a conversation (with Active Communities) and agreed that, it doesn't need to just be one tree."

Jayne
We ran 'pin the tree' on a map of Druids Heath near shops and foodbank pickup points in Druids Heath. With permission from Birmingham City Council within a month we were able to plant Seven christmas trees. We also distributed art and craft packs and we also planned carol singing and a blessing by Catherine, Pioneer Curate who worked in the community:
"Many of the trees were beautifully decorated, the one at Parker being particularly special with toys and all sorts of decorations and the one at Bells Farm having its own train!"

Catherine
"The tree should grow and it's symbolic of something for the community, It's been a really, really positive project and I think at this point in our history as well it's also something very positive to do and raise some spirit. When we were blessing or planting, people have just said that it makes them smile,"

Jayne
For the people involved in 'pinning the trees' to locate them, planting, carol singing and blessing, in challenging times of social distancing (only 6 people could take part in the carol singing), to people who may not have been aware who had planted the trees and why, the trees have become a focal point for Druids Heath communities in difficult times:
"My little boy has loved seeing these on the way to school. A big thank you from both of us xx "
"But who is doing it? And why? "
"Awesome  so glad you posted this as I was wondering where they had come from and was worried the council might come remove them x "
"That's such a lovely idea, how thoughtful"
"Ah they make my day going to work n back thank u all so much wish I could of helped "
Six weeks later all bar one tree is in good health, and one tree has become a memorial tree for Druids Heath community as individuals have spontaneously started to add their messages to the tree – messages in memory of the many individuals who have died in Druids Heath, and as a show of community solidarity and shared grief.
The loss of one tree at Druids Heath library may be down to vandalism which many people were concerned would be the fate for all our trees, but as the roots grow deeper and the trees grow taller of the remaining six, so we hope will the community spirit which has fed this project – whatever the challenges in 2021 Druids Heath has a resilient community and we will replace damage and build with those people who care so much about where they live and the people they live with.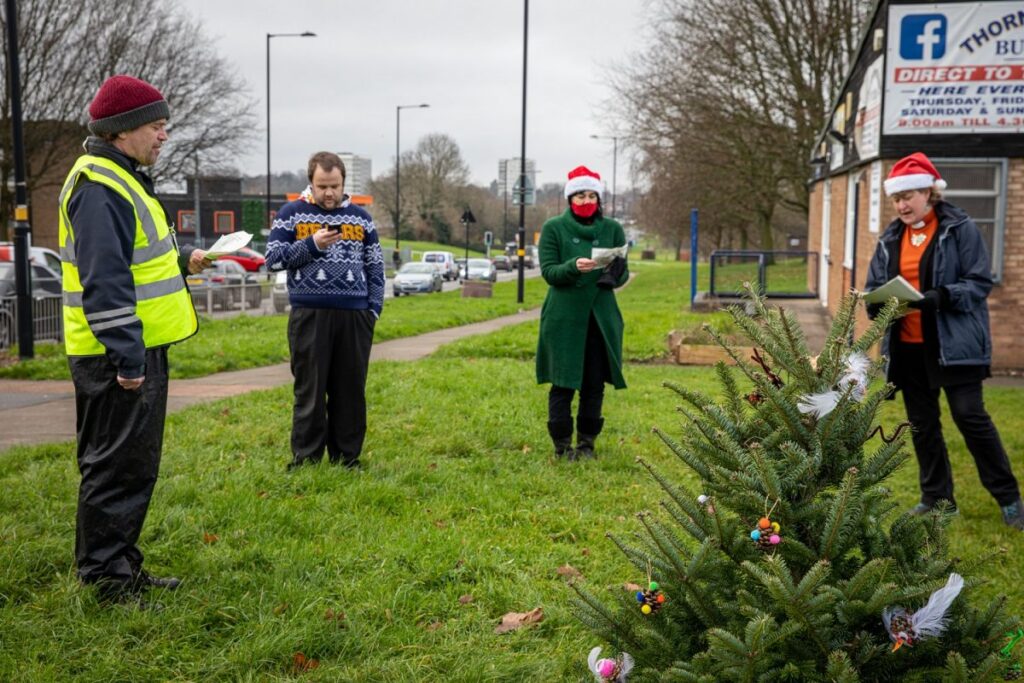 Social Able is led by Place Prospectors CIC, a not for profit community interest company established in 2011 which works creatively with communities undergoing change. Thanks Ella Carman, Gary Jones, Sharon Hart and everyone involved. For more information you can access their webpage through following link: