Alice T from Active Streets writes: With Birmingham being one of the greenest cities in the U.K, we want to expand this legacy and carry it through from our larger spaces to our local residential streets. With the public at the forefront of this new project, not only are spaces being transformed, but communities are working together, creating spaces they can be proud to call their homes.
For Wild Brum, across parts of Birmingham streets will be closing off access to vehicles in order to plant, clear, build and grow. From disused spaces, often used for fly tipping , to the grass verge by the road, flowers and even trees will be popping up, planted by the local residents, supported by Active Streets.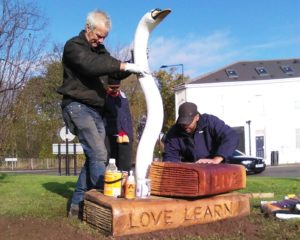 As we know nature takes time and with the potentials of this project growing to involve many more Birmingham streets, we will also see the fruits of our labour flourish, when spring 2018 breaks through winter.
Wild Brum will be kicking off this Saturday, 30th September, and there will be future dates posted following our pilot event. Areas taking part include Kings Heath, Edgbaston and Billesley. If you would like to register your interest for future events, do not hesitate to contact us..
Look out for images and residents feedback of this Saturdays Wild Brum on Active Streets facebook and #WildBrum on Twitter.