Over the past few months the Wellbeing Team have been in Handsworth visiting people to find out more about the community and it's community activists. 'Active Communities' event in Handsworth is the first event in a series to bring people together to make things better locally across Birmingham.
People came from the police, fire service, faith groups and schools as well as chacities and other local groups – to become part of a community network, building Community to tackle local issues. Some people were just passing by and stopped for the swing ball – Active Streets ran a road closure outside the centre with freecycle fruit smoothies, badminton, snakes & ladders, giant connect4 and Jenga, while other groups ran stalls inside to showcase their work. In the main hall was the more serious work of discussing local issues and eating mini cakes.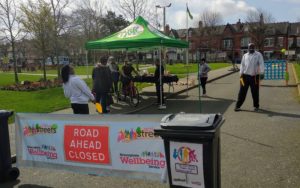 Val, working with Wellbeing Society said:
"There is lots of goodwill and willingness to engage and work to benefit the local community. There is infrastructure but there's a lack of people to support or run activities. Organisations don't just need resource they need referral routes and networks and we're keen to pull together Community initiatives to make them work better for local people."
If you're interested in finding out more, contact Val at the Active Wellbeing Society.