Six streets across Kings Heath and Moseley will be 'Playing out' on National playday, Wednesday 6th August 2014.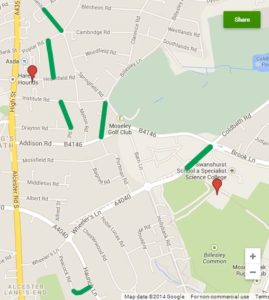 They are:
Gaddesby Road 10am to 1pm
Goldsmith Road 2pm to 6pm
Peacock Road 10am to 1pm
Wheelers Lane 10am to 1pm
Woodville Road 2pm to 4pm
Valentine Road 1pm to 3pm
Highway engineers have already confirmed 5 of the 6 will be temporarily closed to through traffic for a few hours to allow local children to play out safely in the street.  Activities will take place on Wheelers Lane near Swanshurst School, but as it is an A-class road is taking longer to confirm if this will take place on the road or next to it.
The events are resident led and activities will be coordinated by street organisers, however we have been generously supported by many sponsors who have provided funding, advice and activities on the day – Children's play activities will be provided by the Parks for Play team, Active Parks are providing multi-sports activities, there will be music-making for parents and children led by Music Shakers and Kings Heath Library will be putting on story reading sessions.   See logos bottom of page for more organisations supporting us.
Playing Out is about giving children the chance to play safely near home, but also about making the streets generally safer and friendlier for everyone. We hope that residents without young children will also enjoy having the street free of traffic and will come out and join us.
The Playing Out initiative was started in Bristol in 2009 by two mothers who were keen to give their children a taste of the simple freedom of playing in the street that they had enjoyed when they were growing up. Four years on, the Playing Out initiative has expanded in Bristol to over 30 streets and is being replicated in other towns and cities across the country.
The Playing Out sessions in Kings Heath are in their second year and have been organised by a group of local residents, community groups and organisations with an interest in children's play.  Kings Heath and Moseley Playing Out Group offers advice and support to street organisers and are the people to contact with any questions you may have:
kings-heath-and-moseley-playing-out-group@googlegroups.com
Marcus Belben Coordinator, telephone 07784302283
For more about how it went last year see video and links below: