Birmingham is one of the UKs greenest cities and boasts more public open space than any other European city – but how well connected is it, and how easy to access? The Greener Birmingham Coalition asked people to use social media to share the best bits of their journey into the city centre – and where space needs improving and connecting to make wild green spaces appealing and accessible, and travel by foot and bike safe and inviting using #GreenerBrum.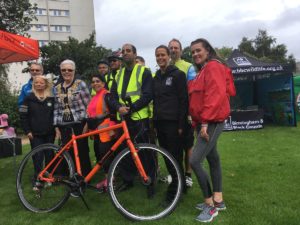 900 deaths per year are linked to air pollution in Birmingham alone, and it is estimated that access to good quality greenspace could save the NHS £105m per year in the West Midlands Combined Authority area.
Guided walks and bike rides were led by qualified bike leaders from Birmingham Cycle revolution and Community leaders and from Active Parks started from across the city traveling along green networks and corridors to show how even in our urban environment, our green spaces are vital to the health and well-being of our citizens. Along the way there were pick up points and activities at some of the lesser known wild places to recognise the community unsung heroes who voluntarily take care of parks, wild spaces, canals and woodlands. These will included local Friends groups and volunteers as part of the Birmingham Open Spaces Forum.
Georgia Stokes, CEO, The Wildlife Trust for Birmingham and Black Country and Greener Birmingham Coalition Co-ordinator said:
'It's great that Birmingham is a green city – but that's no good to people who can't access quality green space. This natural heritage event is part of Birmingham Heritage Week. It's a brilliant opportunity to discover your local green space, or a new walk or ride near you, meet the volunteers who manage community green space and help the Greener Birmingham Coalition map the places that need improving and connecting.'
Here are more comments from the participants, who identified postive aspects, as well as some of the challenges facing Birmingham to improve our green spaces:
Litter a problem #greenerbrum pic.twitter.com/Ff9FYKpLaC

— BOSF (@BhamOpenSpaces) September 10, 2017
#GreenerBrum picnic with #LordMayor @BCRbirmingham new cycle trainers @bhambeactive @CyclingCharCoor @pansypotter41 pic.twitter.com/72AFogq1XT

— David Cox (@davidcox65) September 11, 2017
Canal is a great hidden route through the city #greenerbrum pic.twitter.com/YAL8uOdZVB

— BOSF (@BhamOpenSpaces) September 10, 2017
At Handsworth. Weather is drizzle but we are meeting up. The walk and bike ride both meeting at the Community Garden and Bear. #greenerbrum pic.twitter.com/BEYeOP8xtN

— BOSF (@BhamOpenSpaces) September 10, 2017
Quick stop at Edgbaston to join up with the friends of Edgbaston resovoir group #greenerbrum pic.twitter.com/0onrpW42SH

— BOSF (@BhamOpenSpaces) September 10, 2017
On to the canal at All Saints Rd but trying to find the way on as no signs #greenerbrum pic.twitter.com/8S3ZDgr1IC

— BOSF (@BhamOpenSpaces) September 10, 2017
Used to be a church and school. Time for a new community resource #greenerbrum pic.twitter.com/Gb2wSD1MD4

— BOSF (@BhamOpenSpaces) September 10, 2017
Beautiful planting at the roundabout #greenerbrum pic.twitter.com/gotYFUchCw

— BOSF (@BhamOpenSpaces) September 10, 2017
On Soho road. Need more trees #greenerbrum pic.twitter.com/cXnTqYkiQN

— BOSF (@BhamOpenSpaces) September 10, 2017
Summerfield park. Great park with a wonderful community #greenerbrum pic.twitter.com/7Nf3ihn3dy

— BOSF (@BhamOpenSpaces) September 10, 2017
Onto the canal. Access for bikes but not the easiest and a bit slippy #greenerbrum pic.twitter.com/SsxojO8Gkj

— BOSF (@BhamOpenSpaces) September 10, 2017
For more info see: greenerwestmidlands.wordpress.com/greener-birmingham/