Howie is an ordinary Gnome on an extraordinary mission – to save the planet,  one gnome at a time.
See if you can spot special agent Howie at Lifford Lane in this video:
You may also be spotting him along Birmingham's newest park in Kings Heath, so new it only has a working title, Long Park, between Billesley Pub and the Red Lion.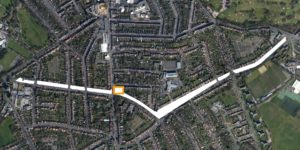 Look out for Howie over the coming months, and please feel free to take your photo with him and post to us – He's not a camera-shy Gnome, but a little scared of heights, and moving traffic – if you find a better place for him in Long Park, feel free to move him and post his photo in new location.