War memorials are something you'll find all over our city and in surprising places, and where better to start finding out about our World War One heritage than paying a visit?  That's what Paganel Primary School did this Friday, to perhaps the most significant World War One memorial in Birmingham – Lodge Hill Cemetery, where 498 soldiers from all over the Commonwealth are buried.
Until I met a veteran of World War one, I personally found it hard to relate to the millions of soldiers killed during the world war one hundred years ago – the shear scale was unimaginable, and the battlefields in Flanders seemed very distant.  Visiting Lodge Hill Cemetery in Birmingham is an obvious place to start our investigation of the World War, literally with the soldiers who fought.
Lance Corporal William Leslie Arnold was wounded in action during the Somme on the 22 July 1916. He suffered a gunshot wound to the right ankle and thigh.  On the 14th August he was transferred to Birmingham and died two days later.  He is buried at the Lodge Hill Cemetery Birmingham, along with 53 other Australians who died in the military hospitals around Birmingham.  His younger brother Francis Benjamin Arnold, aged 20, was shot in the face near the same village of Pozieres the day after William died.  He reached a major hospital in Etaples within a few days, but died from his wounds in France on the 25 August 1916.
His story, and his grave, raises some interesting questions:
How was it that he died of a gunshot wound to the leg?
Would he have survived had he got to a hospital quicker?
When did his parents find out about his death?
Did his brother know about William's death before he himself died?
Was it possible for his family in Australia to visit their dead sons graves in France and Britain?
The Victorian 'good death' was modelled from evangelical beliefs of being with family and making peace with God. How did families cope with these violent deaths far from home?
We found his name, and the names of other soldiers researched as part of In Soldiers Footsteps on the memorial walls, and then, without difficulty, to their burial sites – a number in the ground.  The children noticed some of the graves were still being tended, and also that the stones unusually marked more than one burial – perhaps as the burial site was being used by the Southern General Hospital throughout the war, and burials might have been a quick and practical affair.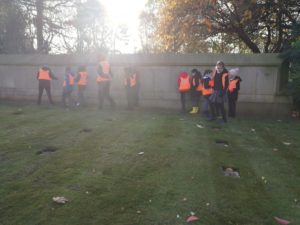 Our visit was on the day one hundred years ago the Battle of Passchendaele ended – we had also researched two soldiers buried who had fought there – one from Selly Oak – less than a mile from the burial, and one from South Africa – one of the many Commonweath soldiers who had been treated at the University of Birmingham in its time as the Head Quarters of the South General Hospital in World War One.
What was important too, and something the children had many questions about, was what was happening in Birmingham during this time.  Birmingham was a major hospital hub, with as many injured soldiers being treated here as there were  citizens, which must have had a major impact.  Also Birmingham was important in munitions manufacture for the war effort in which many of our women worked.  World War One and the lack of parents at home had a huge impact on home life for children, many taking on much of the responsibility of childcare and looking after the home.
War memorials can be found in unusual places (like Tramway Workers War Memorial on Wheelers Lane or Rookery school – see War memorials online for more), and the more local they are to you, the more likely they will have people and stories closely linked to you and your heritage.  There are many ways to bring better understanding of World War One and conflicts in general that can be done at or near a memorial, be it exploring the lives of people being remembered, or even a game of football.
Two minute's silence will mean so much more if we also take time to bring the Memorials and the memories of World War One alive.