Charlotte Richardson writes: After being away with university for a few days I was excited to finally get stuck into my first few sessions with Project Brum. On Saturday 1st July I was up bright and early for the CoCoMAD festival at Cotteridge Park. I had never been to this park or even heard of this festival before so I was a little nervous. Despite the traffic I arrived quite early and so felt a sense of relieve when I spotted the others arriving.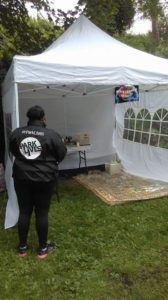 Once everyone had had a quick catch up it was time to unload the van and set up. The set up was quick and easy, with only a little hold back when I hadn't a clue how to put one of the pieces of equipment together, someone spotted me struggling and helped me and we were back on track. Myself and Elisha were then asked if we could assist at the arts & crafts station and bellyfit sessions. As someone who doesn't particularly enjoy the heat I jumped at the chance to do something more laid back, that was in the shade and didn't require me to run around. It was bound to be an easy day.
Oh how I was wrong.  There was an hour or two where only a handful of children came to paint and chatted with us about how many times they had been to the festival or the park itself when all of a sudden so many children arrived we couldn't move. Between a toddler opening the glitter and pouring it everywhere then another knocking water over everyone I welcomed home time. Don't get me wrong I had a great day but there's something about being overly hot and covered in glitter that just makes me crave home.
The next day I was at my first ever road closure for active streets. It was a shorter but just as busy day. Stepping foot onto the street I was instantly transported back to my childhood, the residents had organised a bouncy castle, their own food, drinks, got an ice cream and even the fire brigade brought an engine down for the kids to sit in. After all the negative press around at the minute it was totally rewarding to be part of something that brought a community together.
Charlotte Richardson is part of Project Brum, Wellbeing team