The single most important thing about Active Streets is getting neighbours out onto their own streets,  talking and playing and yet the most common question Active Streets gets asked is what do you do then?
Thanks to the enthusiasm of Project Brum Activators we continue to grow in numbers of Active Streets. Even more exciting than that is the move towards more creative and 'wild' active streets, working to develop our service to better bring more people together about the issues important to them.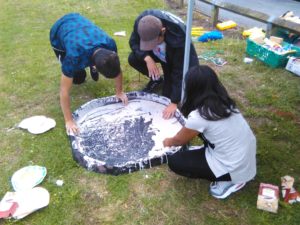 Our first events in 2013 were in partnership with Parks4Play – their excellent play leaders brought creative play to the streets in the form of cardboard boxes, chalk, giant bubbles and many other simple, cheap creative play ideas.  Slime has been a big hit on our streets this year (more accurately non-Newton fluid or Oobleck from Dr. Seuss).  It's also a good opportunity to do the sort of activities you might think twice about doing in your own home – painted hand and footprints on wallpaper is fun, and maybe if you're campaigning for something locally, banner making might be useful.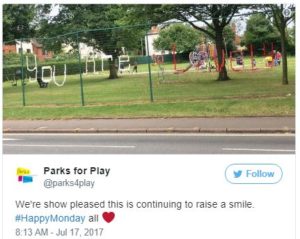 Your event might naturally have a theme of some kind, which might help – this year we've supported street events for National Clean Air Day, in memory of Jo Cox, and to raise awareness Birmingham's 20mph limits.
We're run events by the side of a canal and within a school canteen this year where a healthy drink was needed – our bicycle smoothie maker came into it's own.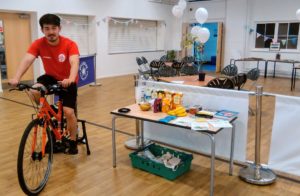 We nearly always bring some sports activities to our events, but maybe you could organise teams beforehand for a game of cricket on the evening of a big game, like one road near Edgbaston will be later this year?
Active Streets have occasionally been caught out by the weather, but what if your event takes advantage of the weather or the season?  Why not keep some plastic bags to one side to make mini kites, or what sort of garden activities could you do in the street?  This year in September and October we're looking to support more streets who may be interested in planting up or 'wilding up' areas of ground that are less well cared for on Streets.
Active Streets may be getting more creative and wild this year, and there's more evidence to demonstrate the health benefits, but whatever it does, it's still first and foremost about bringing people together.
Here are some more ideas: