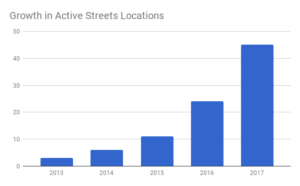 Five years on, playing out in Birmingham has developed into Active Streets, and has grown exponentially.  Starting at three streets in Kings Heath in 2013, last year there were 45 Active Street locations, and a total of 80 different events citywide.
Last year saw significant developments for Active Streets, developing 'Wild Streets', work with schools on streets, and 'Creative Streets' – working with local artists and the arts fora across the city.  Active Streets will continue to support particular campaigns like National Clean Air Day, events in memory of Jo Cox, and to raise awareness Birmingham's 20mph limits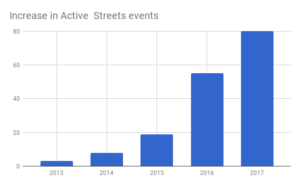 The work continues in collaboration with street organisers to help organise the events they want developing community cohesion.  This year Active Streets hope to develop more work with Schools and growing more on streets, as well as developing creative and heritage activities with streets.  On 6th February Active Streets worked with People's Heritage Co-operative to coordinate  a Rally outside Council House, to celebrate one hundred years since the Houses of Parliament passed The Representation of the People Act.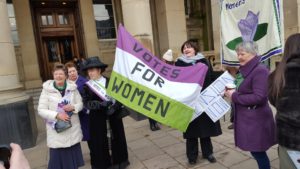 There will be many more exciting opportunities to be Active on our Streets in2018 – for playing, sport, creative work and celebrating our heritage – come and join us!
An early promotional video for 'playing out' on Playday 7th August 2013:
Contact activestreets@birmingham.gov.uk to find out more.